TOA Waters is celebrating our first Anniversary today! It all started with a vision and determination. However, there's no denying the fact that what has nurtured and sustained TOA Waters these past 365 days is the community of incredible bathers and believers who have supported the company from its infancy.
Without these supporters, TOA Waters would not be where it is today. In order to commemorate this momentous occasion and the awesome individuals who made it possible, we thought it'd be appropriate to take a float down memory lane. It's time to revisit some of TOA Waters' milestone memories and all those who have offered helping hands.

Grab your rubber duckies and enjoy the fun sneak peeks and "sudprises"  to come!
1. The Early Designs of the TOA Waters' Logo
The TOA Water's Logo was designed by a super talented illustrator named Corey. Founder, Javier Folgar, wanted to develop a logo that combined the elements of water and strength. This combined with Javier's love for mythology and mythological creatures birthed the half bull/half fish creature seen on TOA Water's bubble bath products. 
A closer look at the intricate design might reveal some secrets that are not so obvious to the naked eye. The circular movement of the creature's tail symbolize the inside of a shell, and the tail of the creature contains ocean waves. Additionally, the lines within the creature's tail are meant to symbolize the fluid ripples of water.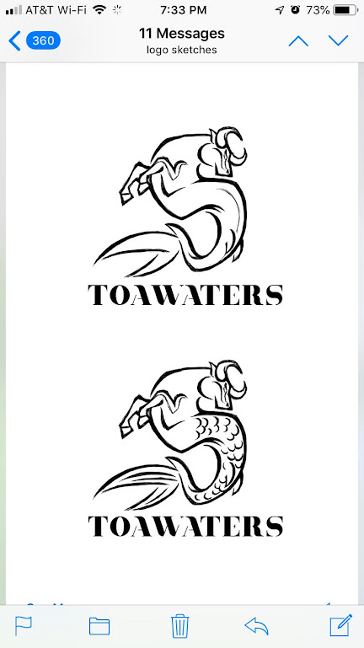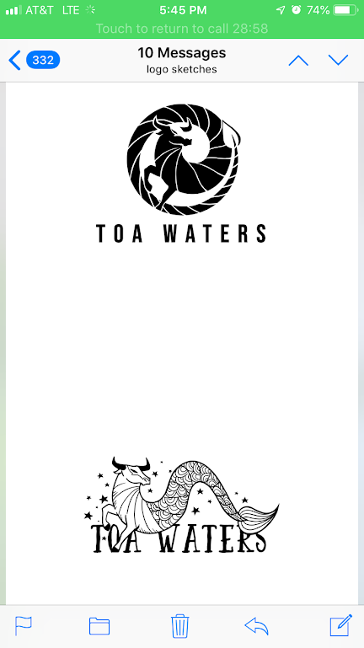 2. TOA Waters' Winter 2021 Website Redesign
Javier worked with an incredible team of designers and programmers to build the new TOA Water's website. The new site has a rich and beautiful layout and a bunch of new great features including easy to navigate menus and fun treats like unique bath accessories and of course bubble baths for both men and women to enjoy!
Below is a preview of TOA Waters' original website, before it was relaunched.
3. Mock Bubble Bath Label Design
Javier worked hard to make sure that the design was just right. Here's Javier's rough attempt to design the label for TOA Waters' bottles. That's when we realized, he needed to enlist some professional help. 
4. First Mock Design of Current Label
They say that you know when you know, and well, Javier knew that this one was sure to stick!
5. First Shipment of Packing Supplies
Ever get that sinking feeling that accompanies seeing the magnitude of your order and being unsure of where to store it? Let's just say Javier has been there.
6. First Batch of Signature Scent, Casanova
Casanova was the scent that Javier Folgar yearned for in a bubble bath but couldn't find anywhere on the market. So, what did he do about it? He birthed a vision for a company that would revolutionize bubble baths for both men and women and continued on to develop the scent he had been searching for all the time.
7. First Batch of Sweet Temptation
8. Grandpa Learns about TOA Waters
Call him the OG dreamer--the pride in grandpa's eyes came when Javier shared that he had started his own bubble bath company. Grandpa was holding his very first TOA Water's hand sanitizer, and he rests it proudly on his bedside table!
9. Family Rocking their TOA Waters' Pride
Javier's family jumped on the TOA Waters' bandwagon right away. They love their apparel and wear it with pride!
10. That Time Atla Photobombed
Javier's dog, Atla, missed the memo. Apparently, she didn't realize she was supposed to model. 
11. Our Very First Customers
Supportive family members were ecstatic to receive their first bubble bath.

12. Raw Materials
Javier's resourceful father designed a way to bring the raw materials inside.
13. The Wall Decal
Call it official--the wall decal finally went up! Just in time for our new interview with the local paper.
14. Our First News Coverage and Interview
TOA Waters' first news story was published in the Daily Record. Javier was interviewed by a reporter over the phone, and a photographer then visited his home to take pictures of him and his products. Javier admits that he wasn't nervous for the interview. However, this interview in particular was different from any he's done before because it was the first interview that he did to represent  himself and his dream - not for a company he worked for.
15. We Made it on Air!
Friends at Key 103 interviewed Javier for their radio show. Unfortunately, he couldn't catch the broadcast live, however, he received the clip of the interview and enjoyed listening after it had aired.
16. That Time the Big Machine Broke
That time Javier's new machine to pump the bubble bath into the bottles broke. It was only a few days old. Lesson learned. 
17. Helping Hands
Javier's mother, father, and brother stopped by to lend a helping hand.
18. Just Willis, Because Willis
Doesn't everyone know that creepy neighborhood cat? Well, Willis clearly wanted to stop by to oversee the TOA Waters' operations.
19. Our First Wholesale Partner
In November 2020, TOA Waters gained its first wholesale partner. That's right, TOA Waters proudly partnered with CycleFit and shared its amazing products with those looking to unwind and soothe sore muscles after a solid workout.
20. That Time the Local Radio Crew Came to Visit
21. First Endorsement from Professional Athletics
TOA Waters sponsored the 2021 Rookie Symposium & Showcase, an event focused on educating athletes, on and off the field.
The event is a 3-day educational and testing event that emphasized the importance of educating and cultivating well-rounded athletes, on and off the field. The symposium offered an opportunity for athletes to learn the importance of on & off field decorum, financial management, social responsibility, endorsement training, as well as player engagement resources.
22. Trying our Hand at Booth Setup
Our next memory brings you to our booth set up at our first event – the Heritage Festival in Silver Springs, Maryland. Funny story to accompany this beautiful set-up. Javier had brought a ton of supplies in anticipation for the event. However, when he arrived, he realized that he was assigned a booth located behind the stage. There were performers dancing right in front of the stage. While he received first row seats to the performance, barely anyone stopped by. Only two bottles were sold that day. It was disappointing, but it's not the TOA Way to give up.
23. Attending our First Event
Attended our first event in Frederick, Maryland - the home to the base of our operations. The event was called the Night Market. We had some friends stop by and say hello, and of course, check out our latest and greatest bubble baths.
When you think about what TOA Waters has been able to accomplish in a year, it's actually quite remarkable! When you think about the whys and the whos, it's even more remarkable. 
This just goes to show that when there's a dream, passion, and enthusiasm there's not much that can burst your bubble. 
Here's to TOA Waters' first year and to its "unpoppable" future and the "sud-tastic" bathers who've been celebrating it along the way.